Day One: Dynamic Duo United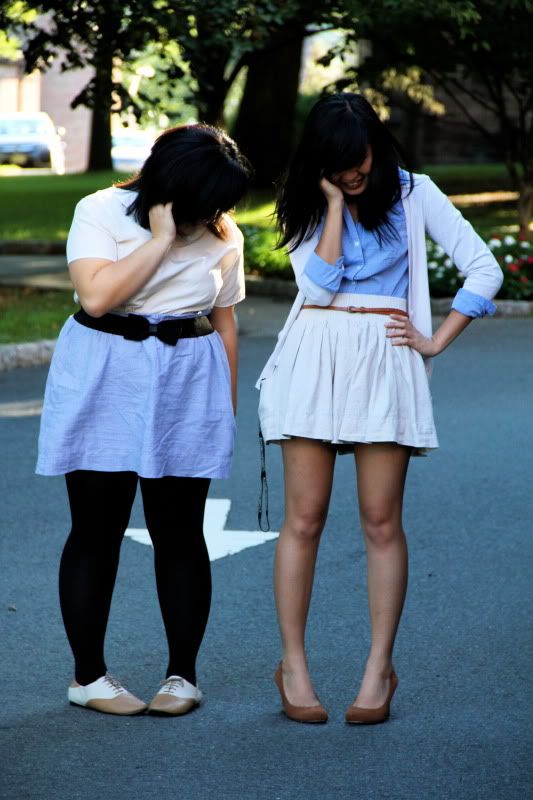 It's still hard for me to believe that these
Dynamic Duo
photos aren't photoshopped. As I'm typing this
Jasmine
is actually just a few feet away updating her blog as well. It still feels surreal but I know once she leaves I'm going to feel weird not having her there. And now I'm just starting to feel a little creepy writing about her when she's right here. It definitely feels like I've known her for years and we're just casually meeting up to hang out. :P
These pictures were taken on Friday on campus after I picked her up from the airport and she got to drop off her luggage at my apartment. My friend tagged along so we enslaved him as our photographer for a bit. We accidentally ended up with inverse outfits that day; I had chambray on the top and she had chambray on the bottom. (And how adorable are her oxfords?) I know you guys love the second picture where we're doing the standard blogger pose.
(on me: cardigan american eagle, shirt dress h&m, skirt nyc boutique, belt forever 21, wedges seychelles)
So after taking these photos, Jasmine took off for NYC to see a few fashion shows while I headed off to class and then a few hours of work. We were able to meet up again in the evening with Jenny from
Fashion for Writers
! We got this extremely awesome Brazilian guy to take our photos. Jenny noticed he had a DSLR so we figured he'd know what he was doing with my camera...and turns out he did!
I can't wait to show you guys pictures from the rest of the weekend. I'm so exhausted and my feet are twitching with pain but it was so worth it. Get ready for a whole bunch of pictures; you guys will be doing a whole lot of scrolling! It's Jasmine's last night here before she boards for the airport early tomorrow morning. We'll probably do some late night photo exchanging and bonding...or we'll both just pass out. I actually have homework I need to get done for class at noon today. Time to snap back into reality!